Photos from my Rhode Island Trips
I've spent the previous two weekends in Rhode Island attending to important business. (OK: lounging on the beach, playing mini-golf, and attending my grandmother's 75th birthday celebration.) I brought my camera along, and captured some nice images I thought I'd share with you.
One of the first things I noticed on arrival was the much greater presence of wild animals than before. I guess this is a nationwide phenomenon; deer, bears, even wolves are all making comebacks. But I hadn't realized that this phenomenon had spread to coastal Rhode Island. That is, until one night just before sunset I discovered a flock of a dozen wild turkeys gobbling away in my folks' backyard. Poor fool that I am, I didn't get any photos of them, though I did manage to later get a shot of some evidence of their presence (other than their omnipresent droppings):
They do exist!
Another example of local wildlife (also from my parents' backyard):
(Sorry for the low quality; I couldn't get that close.)
Across the street from my grandmother's house is a pond that's the northern home to a flock of between 150-200 egrets. I tried to capture them (not entirely successfully, due to the distance).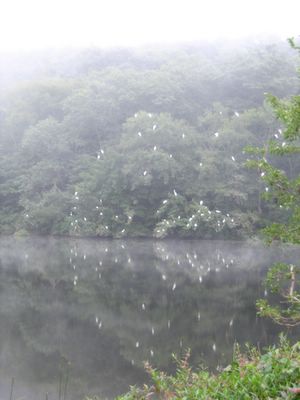 I also have photos of non-natural phenomena. There was, as I mentioned, my grandmother's birthday celebration, at which gathered her children and grandchildren, one of her nieces and her family, and some distant cousins who live nearby. The kids played until it got too buggy, and we cooked-out, and a grand time was had by all.